Preliminary course - the best preparation for your IT studies!
To ensure that you have a good start to your IT studies, the Faculty of Computer Science offers a preliminary course for first-year students of the three degree programs Applied Computer Science, Computer Science and IT Security. In three coordinated formats you will be optimally prepared for your studies:
Tutorial
Here you will find all information concerning the organization of your studies. Where will the first lecture take place? What do I have to pay attention to? What are the names of the professors? What does the student council actually do? How do I find my way around the campus? What support services are available? At least as important: In addition to the content, you will also get to know your fellow students and the learning process with lectures and exercises at the university. In order for you to feel comfortable with us from day 1 of your studies, we strongly recommend that you take part in the pre-course. In addition, we will offer exciting excursions to various institutions in Bochum as part of the pre-course.
You didn't have a mathematics as an advanced course? No problem! In the mathematics part of the pre-course we refresh your knowledge and prepare you for the university mathematics for computer scientists.
Registration is not necessary. More information about the dates will follow shortly.
Pre-course computer science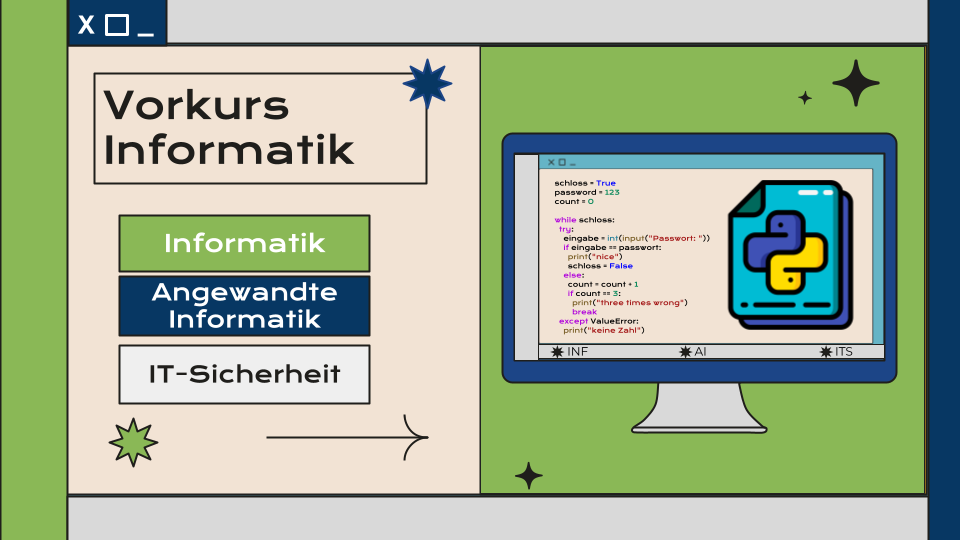 You haven't found a good way to get started with programming yet? Then this is the right course for you! We offer you an exciting introduction to programming. At the end of this pre-course you will have learned a programming language as well as its underlying logic and you will have written your own first program. Sign up now! More information about the dates will follow soon.
The pre-course will take place in September.